🐯 Parents, please join our PTO Facebook page to stay informed on upcoming events and meetings. 🐯 Padres, por favor, únanse a nuestra página de Facebook de PTO para mantenerse informados sobre los próximos eventos y reuniones.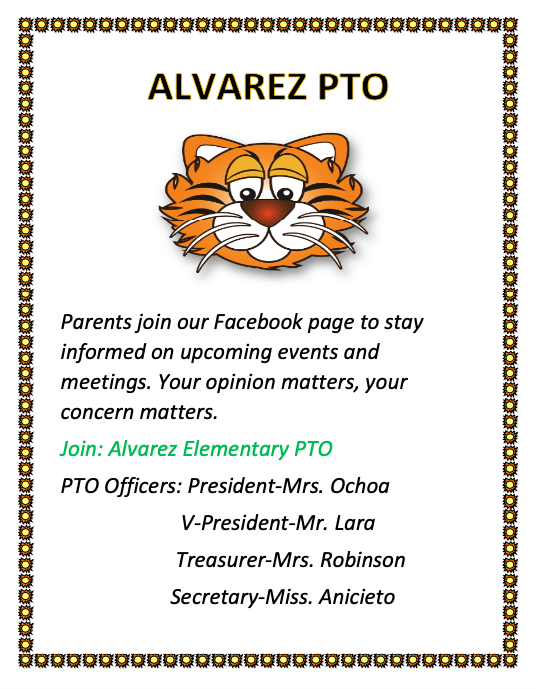 🐯 Save the Date! 5th Grade Drive Thru Celebration!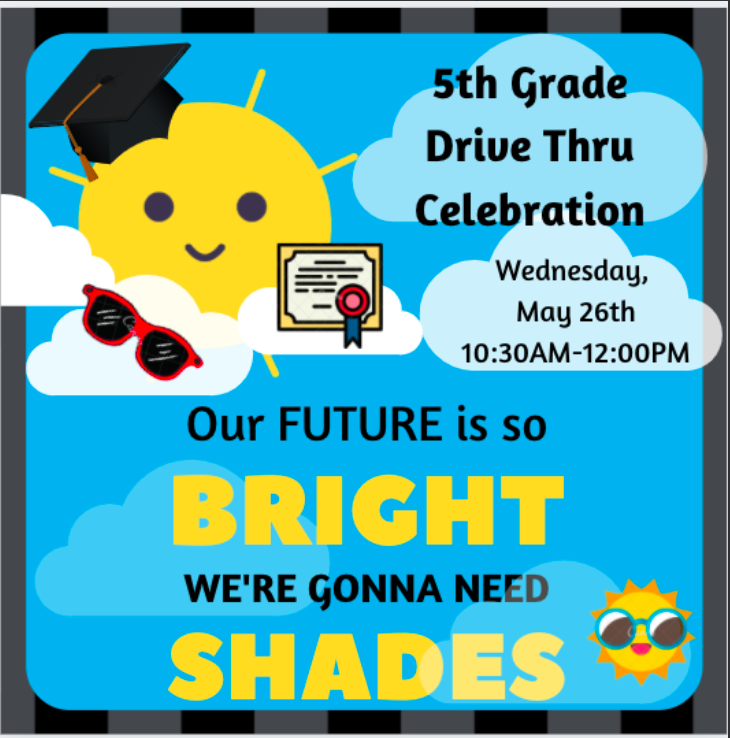 🚨 FYI Important Meal Update: Please note that all grab & go and curbside meal sites are closed today due to inclement weather. Please avoid roads if possible. Meals will be served, as usual, to all children attending school in person. Actualización importante sobre comidas: Todos los sitios de comidas para llevar y en la acera están cerrados hoy debido a las inclemencias del tiempo. Evite las carreteras si es posible. Las comidas se servirán, a todos los niños que asistan a la escuela en persona.

Queridos padres, McAllen ISD recogerá dispositivos móviles rotos para repararlos para el año académico 2021- 2022. Si el dispositivo de su hijo tiene una pantalla rota, le faltan botones o llaves, le falta una carcasa o tiene cualquier otro problema de funcionamiento, entregue el dispositivo de su hijo para su mantenimiento. * Todos los estudiantes de quinto grado deberán prepararse para devolver el iPad y el hotspot suministrados por el distrito con todos los cables de carga también. Los estudiantes de quinto grado que asistirán a la escuela de verano pueden conservar sus dispositivos hasta nuevo aviso. Se evaluarán las tarifas si los dispositivos y cargadores no se devuelven. Asegúrese de que el iPad de su hijo no tenga una contraseña cuando regrese al campus. Puede dejar los iPads de 8:30 a.m. a 11:00 a.m. (del lunes 24 de mayo al viernes 28 de mayo) conduciendo a través del lugar donde dejarán los estudiantes, o pueden dejarlos en la oficina principal entre la 1:00 p.m. a 3: 00 p.m. (del lunes, 24 de mayo al jueves, 27 de mayo). Tarifa: - iPad y estuche $ 344 - Funda para iPad $ 45 - Cable USB $ 17.50 - Adaptador de corriente $ 17.50 - Cargador (Adaptador y Cable) $ 35 Agradecemos su apoyo mientras continuamos trabajando duro para servirle a usted y a nuestros estudiantes.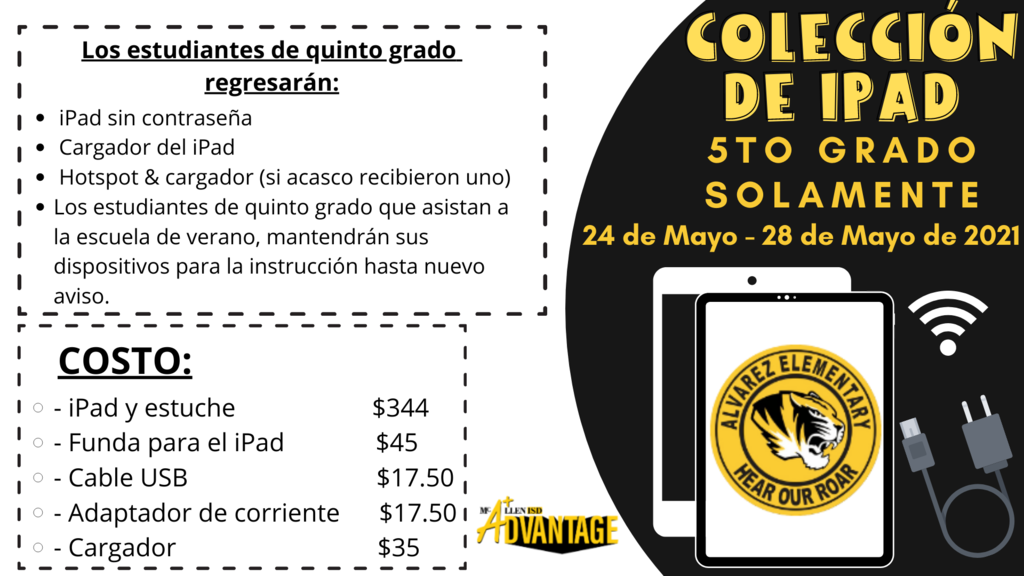 Dear parents, McAllen ISD will be picking up broken mobile devices in order to repair them for the 2021-2022 academic year. If your child's device has a cracked or broken screen, missing buttons or keys, a missing case, or has any other functioning issues, please turn in your child's device for maintenance. *All 5th graders will need to prepare to return their district issued iPad and hotspot with all charging cables as well. 5th grade students who will attend summer school may keep their devices until further notice. Fees will be assessed if devices and chargers are not returned. Please make sure your child's iPad does not have a password when returned to campus. You may drop off iPads from 8:30 a.m. – 11:00 a.m. (Monday, 5/24th through Friday, 5/28th) by driving through the student drop off, or they may be dropped off at the front office between 1:00 p.m. - 3:00 p.m (Monday, 5/24th through Thursday, 5/27th). Fees: - iPad & Case $344 - iPad Case $45 - USB Cable $17.50 - Power Adapter $17.50 - Charger (Adapter & Cable) $35 We appreciate your support as we continue to work hard to serve you and our students.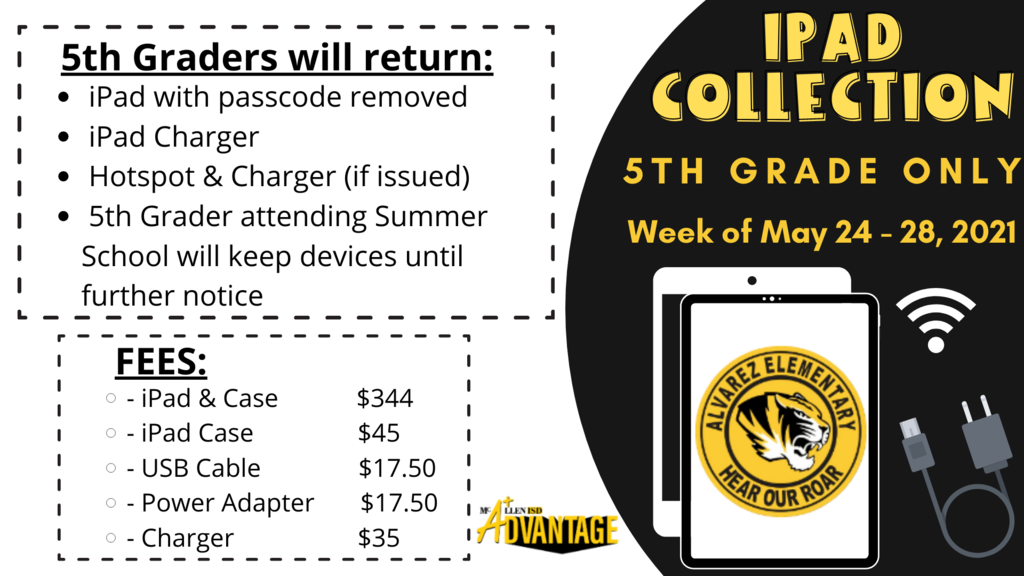 🐯 Save the Date! Kinder and 5th Grade Drive - Thru Celebration!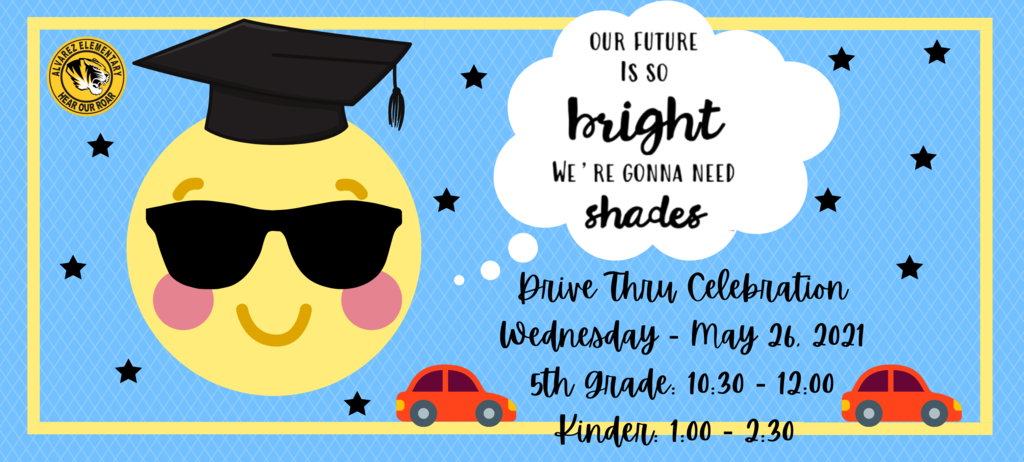 Families, sharing summer camp from Project Transformation. For details please see flyers. Contact information for questions or concerns: El Divino Redentor, Pastor: Nydia Jara 2421 W Maple Ave McAllen, TX. 78501 (956) 686-8564 Familias, compartiendo campamento de verano del Proyecto Transformación. Para obtener más información, consulte los folletos. Información de contacto para preguntas o inquietudes: El Divino Redentor, Pastor: Nydia Jara 2421 W Maple Ave McAllen, TX. 78501 (956) 686-8564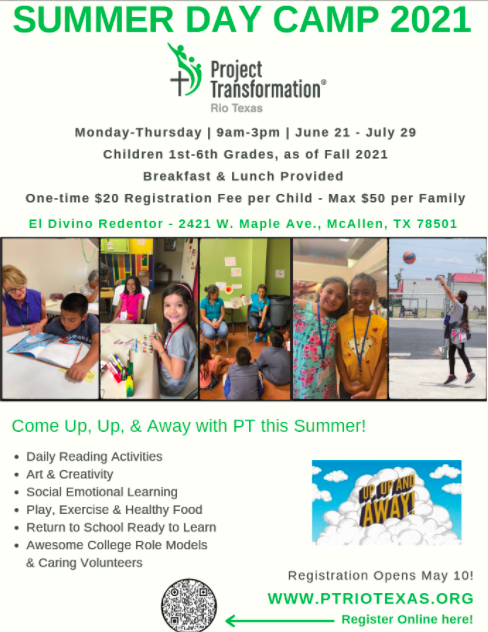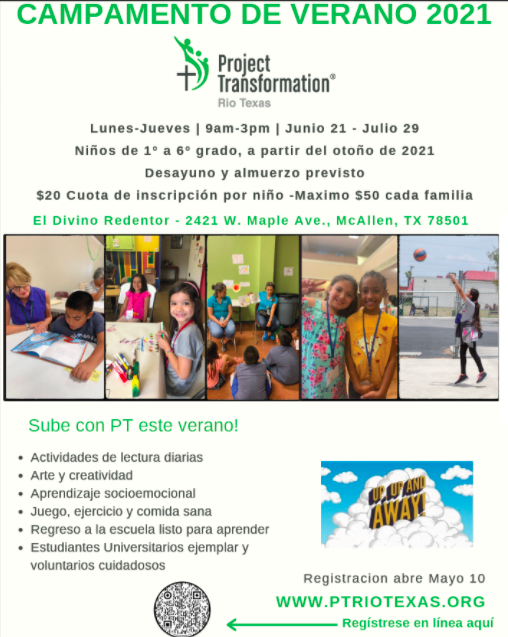 Mental Health and Wellness trainings for this week from MISD Family Treatment Program. Entrenamientos de Salud y Bienestar Mental para esta semana del Programa de Tratamiento Familiar de MISD.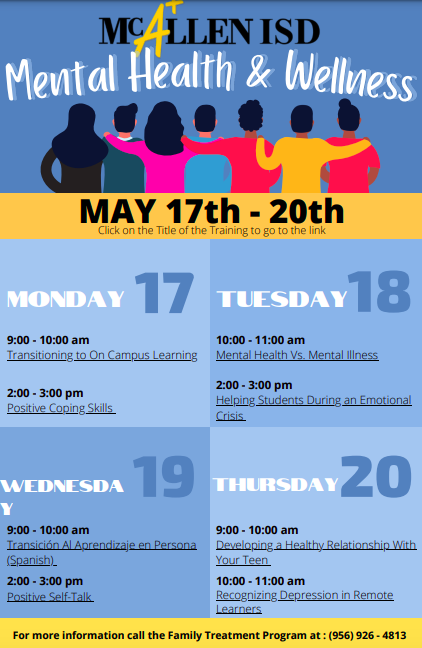 🐯 Thank you Nurse Britton and Officer Trevino for everything you do for us here at Alvarez Elementary! Thanks also to "My HEB!" "No one does more than my HEB!!"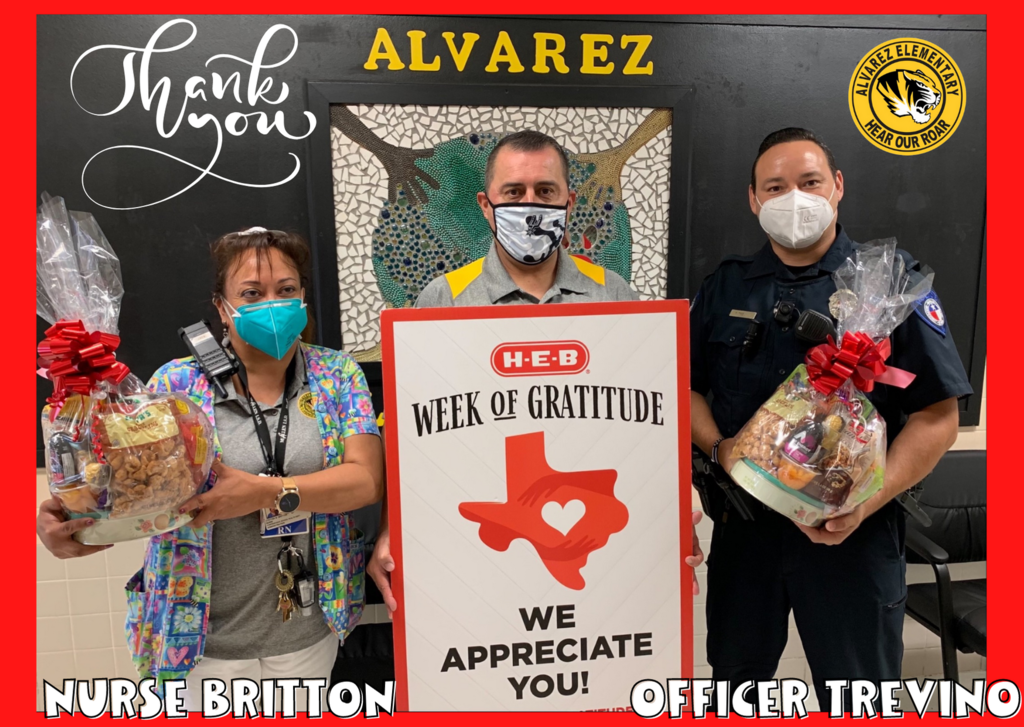 🏐 Nikki Rowe High School 15th annual Volleyball summer camp! 🏐The camp will be from July 26-28 , see attached flyer for more details.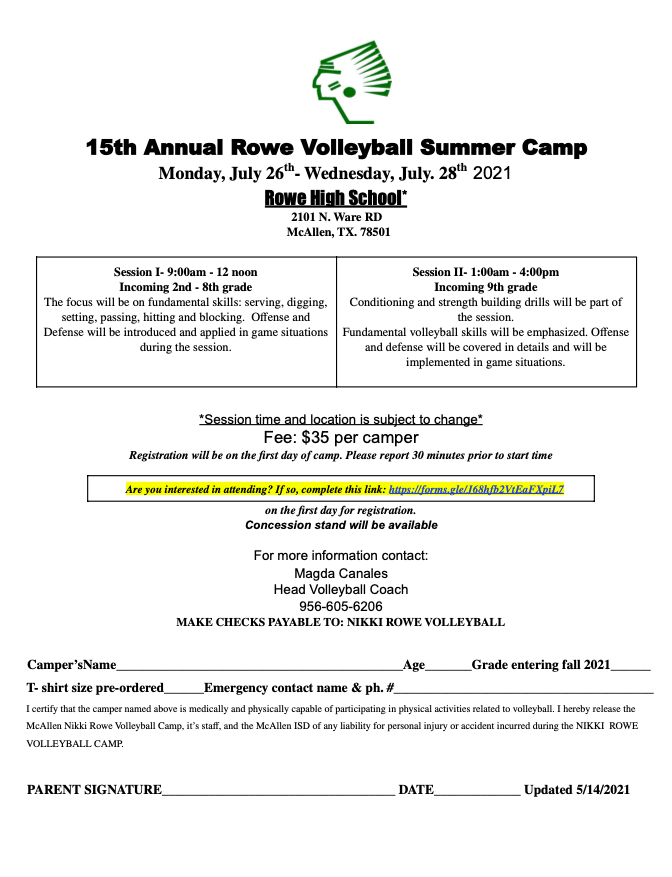 🐯 Alvarez families, join us for our next parent meeting May 18 at 1:30pm. See flyer for details. Hope to see you on zoom! 🐯 Familias de Alvarez, acompáñenos en nuestra próxima reunión de padres el 18 de mayo a la 1:30 pm. Consulte el folleto para obtener más detalles. ¡Espero verte en zoom!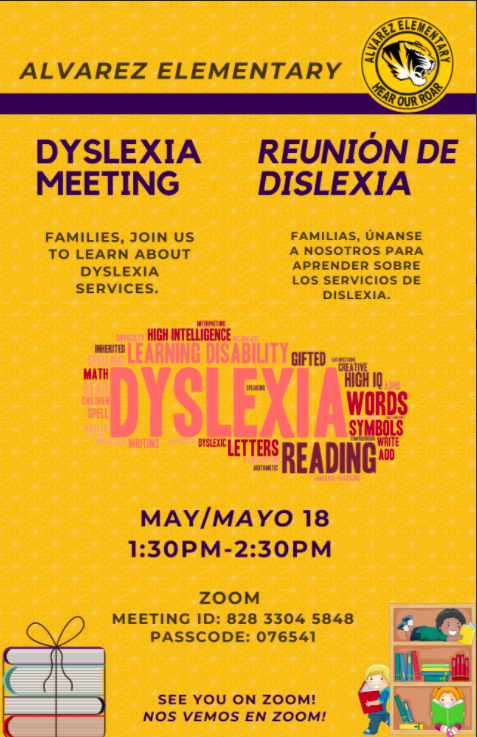 🐯 Hello Parents, Attention upcoming and current 3-5 graders! Summer Programs available starting June. There are limited spaces available. It will be a lot of fun. If you are interested please click on the link below. See you soon! 🐯 Hola padres ¡Atención a los estudiantes de 3-5 grados, próximos y actuales! Programas de verano disponibles a partir de junio. Hay espacios limitados disponibles. Será muy divertido. Si está interesado, haga clic en el enlace a continuación. ¡Nos vemos pronto!
https://www.mcallenisd.org/page/community-youth-development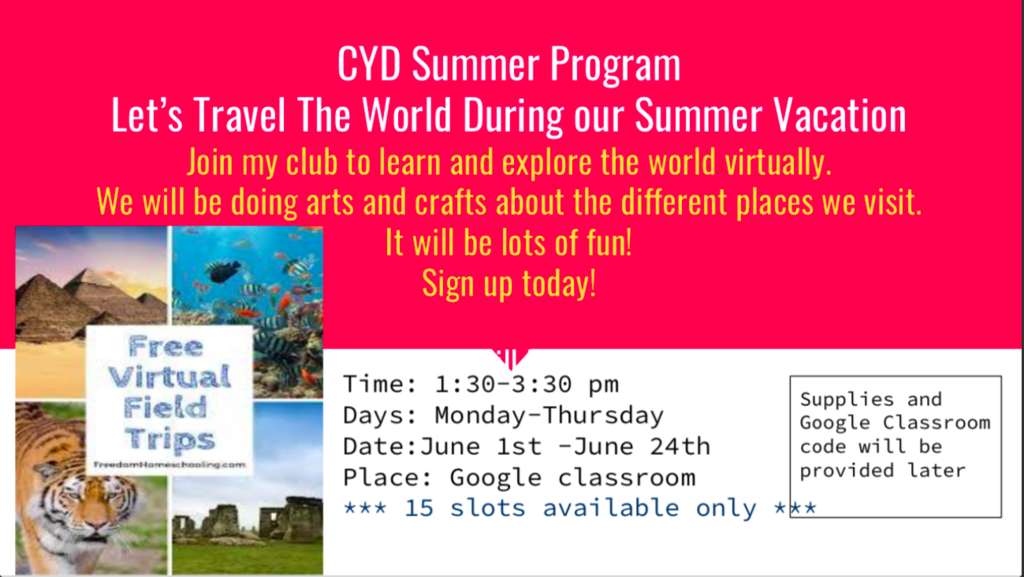 🚨 Incoming 6th - 8th Graders! 🚨 💪 Get FIT at Cathey Middle School! This year, McAllen ISD and the Community Youth Development will host a GET FIT Program at Cathey Middle School. This program is FREE to all students that live or attend school in 78501 are code. Please see flyer for more information.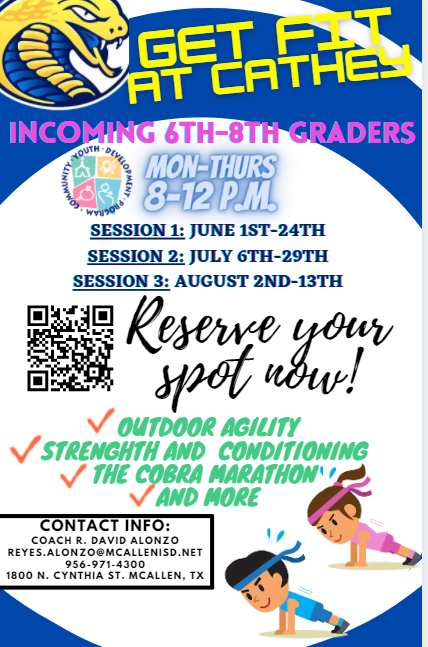 🎓 🗓 Save the date! 🎓 🗓 Aparte la fecha!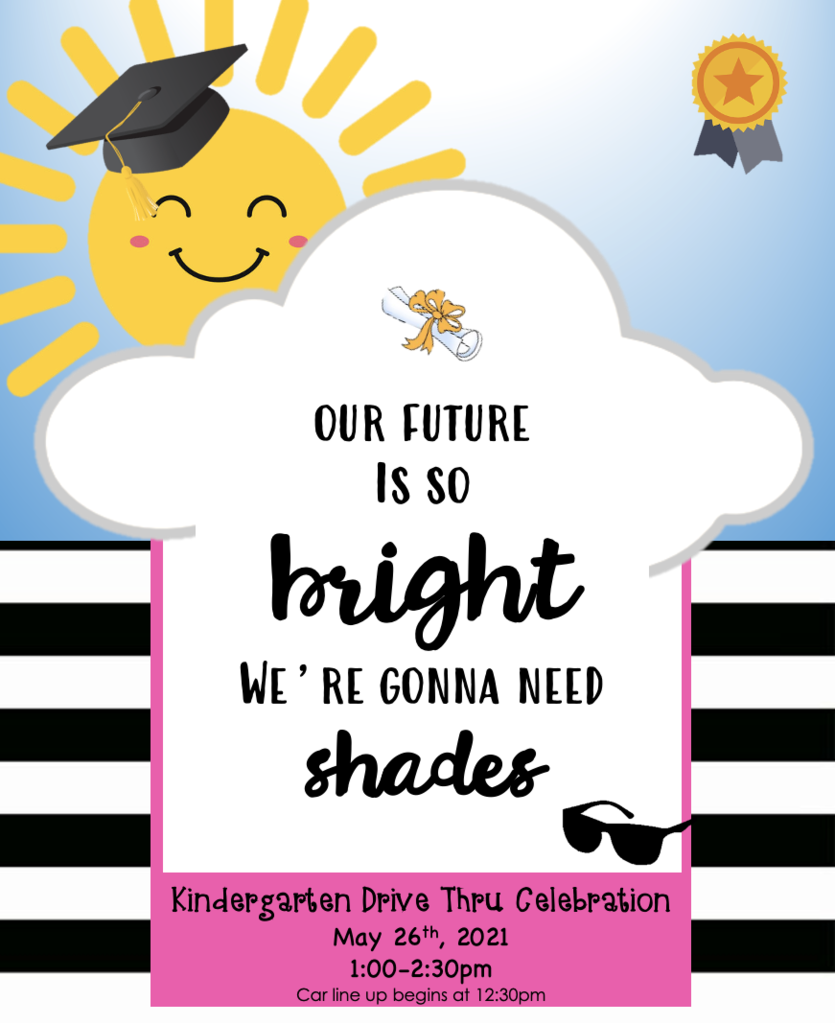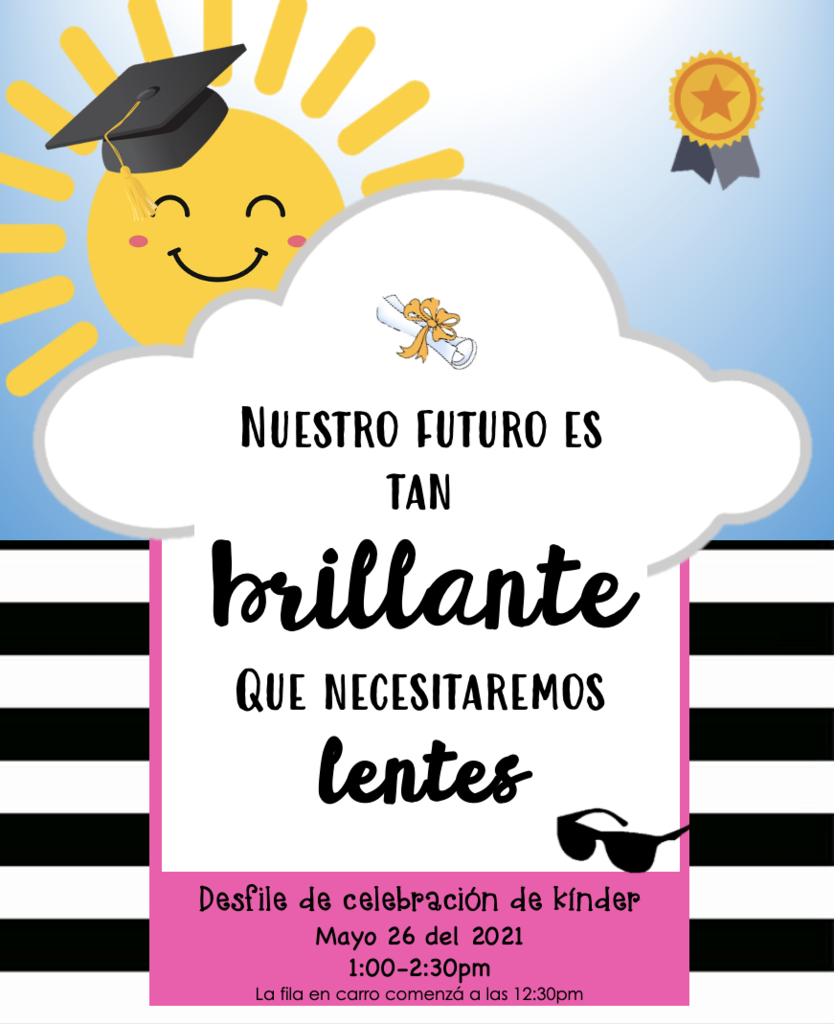 👮‍♂️🐯 National Police Week is May 9 - 15! A BIG TIGER ROAR for Officer Trevino! Thank you for serving and protecting our Alvarez School Community.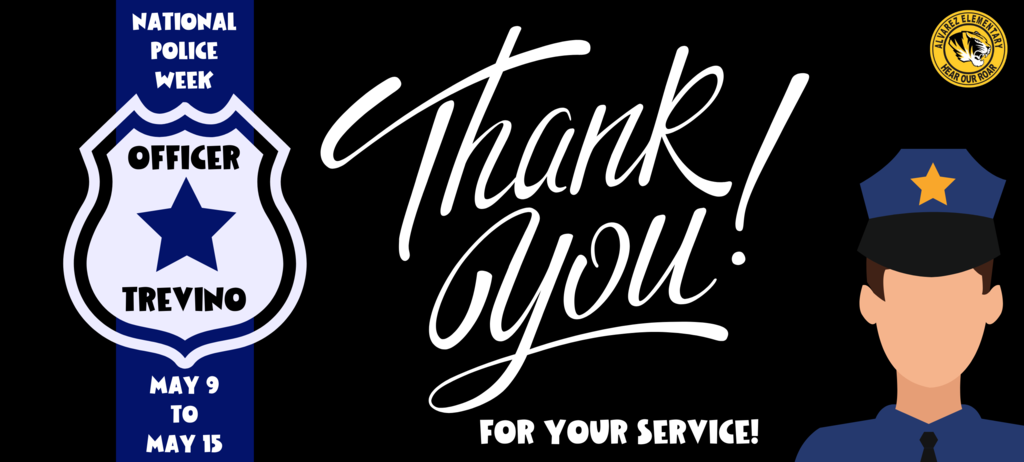 Families, join us this Thursday May 13, 2021 to learn about the different services and programs offered to your child at McAllen ISD. See flyer for details. Hope to see you on zoom! Familias, únase a nosotros este jueves 13 de mayo de 2021 para conocer los diferentes servicios y programas que se ofrecen a su hijo en McAllen ISD. Consulte el folleto para obtener más detalles. ¡Espero verte en zoom!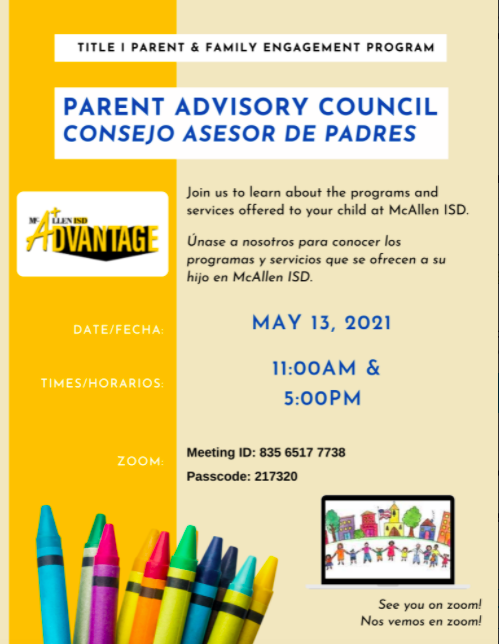 The Family Treatment Program will be hosting mental health trainings this week. See flyer for details. El Programa de Tratamiento Familiar ofrecerá capacitaciones sobre salud mental esta semana. Consulte el folleto para obtener más detalles.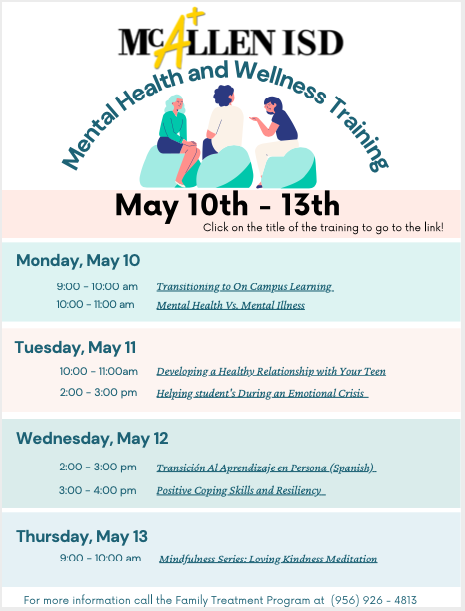 Today we celebrate all of our AMAZING Tiger Moms!!! Happy Mother's Day! ♥️🌹♥️ Hoy celebramos a todas nuestras INCREÍBLES y lindas madresitas de la escuela primaria Álvarez!!! ¡Feliz Día de las Madres! 🌹❤️🌹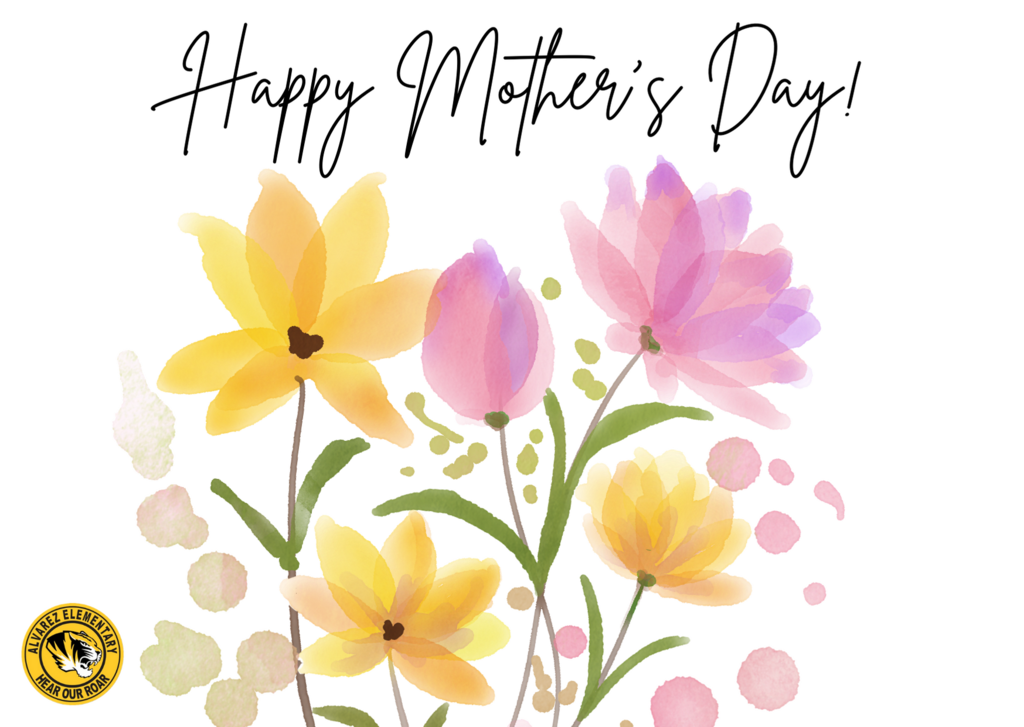 🐯 Help us Celebrate our Cafeteria Staff today - May 7, 2021 for School Lunch Hero Day!! Paint them a picture, send a note, or just wave with a smile, to thank your favorite hero! 🐯 Ayúdenos a celebrar a nuestro personal de la cafetería hoy el 7 de mayo de 2021 para el Día de los Héroes del Almuerzo Escolar ¡Píntale una imagen, envía una nota o simplemente saluda con una sonrisa para agradecer a tu héroe favorito!